HazeOver News and Updates

"macOS Ventura is here, bringing fresh ways to boost your productivity and creativity. Check out a few of its coolest new features—along with apps and games to get the most out of them."
"Whether you're working, playing, or spending time with family, setting up a Focus is a great way to establish boundaries. With the new Focus filters in macOS Ventura, apps can customize what you see based on the Focus you've enabled."
"By letting you automate frequent or cumbersome tasks, Shortcuts has become a productivity favorite on Mac. […] Check out these Mac favorites that work with Shortcuts"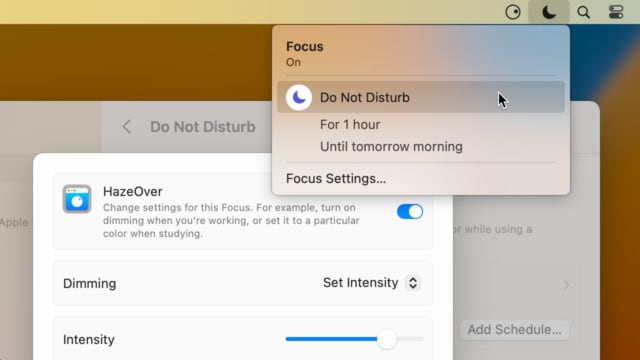 Set up a Focus Filter to toggle HazeOver dimming or set its intensity and color automatically depending on which Focus mode you have activated. For example, you could have dimming turned on when switching to a Work focus or get it set to a particular color when studying.
Read the Automation Guide for details and inspiration.
Learn More →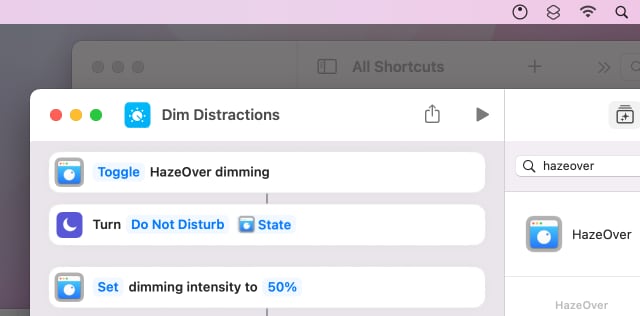 Control HazeOver dimming state and settings with Shortcuts app on macOS Monterey. Combine with other apps and settings to set up your perfect environment. For example, you can enable HazeOver, turn on Dark mode and Do Not Disturb with a single keyboard shortcut. On all macOS versions you can use AppleScript.
Read the Automation Guide for details and inspiration.
Learn More →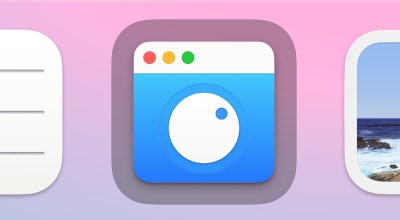 Fresh new app icon to go with macOS Big Sur.
Fixed: Displays tab option did not get updated.


Updated for macOS Big Sur with native support for Macs with new Apple Silicon M1 chips.
More options to override what Touch Bar shows for certain apps: Spaces and Quick Actions. In addition to Expanded Control Strip, "F1, F2, etc." Keys, App Controls.
Learn More →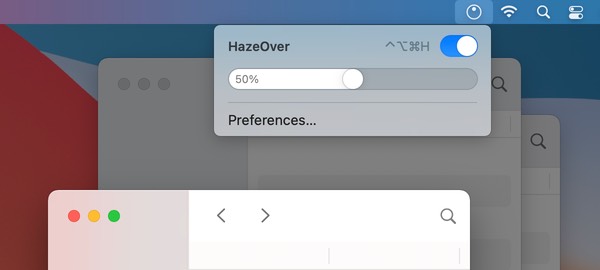 New menu look to match the Control Center in macOS Big Sur.
Hide some HazeOver menu items for a cleaner look.
Native support for Macs with new Apple Silicon M1 chips.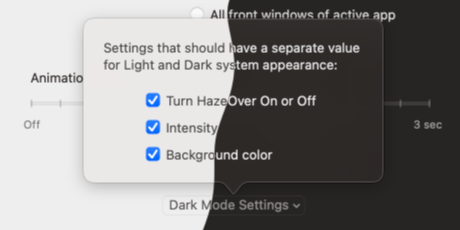 New: Dynamic settings for Light and Dark system appearance.
Dimming settings can be set to change automatically when using Auto Appearance on macOS Catalina (System Preferences > General). For example, enable dimming when turning on Dark mode. Or have different dimming intensity and color when in Light mode.
Such settings will be saved and applied independently for Dark and Light appearance. See HazeOver Preferences > Advanced > Dark Mode Settings.

YouTube does not play 4K videos in Safari. This extension comes to your help:
It shows 4K badge in Safari toolbar if a YouTube video has 4K quality.
To open the current page in another browser click the toolbar button.
To skip YouTube ads Control-click the toolbar button.
Learn More →

Improved compatibility with macOS Catalina.
Keyboard shortcuts to adjust dimming intensity.

In this story Apple suggests HazeOver for "a professional look when making screen captures and recordings".
Learn More →

HazeOver story: How the distraction-dimming app was developed to reduce visual noise and promote productivity – based on an interview with the developer.
Learn More →

Fixed: double-clicking menu bar icon to toggle dimming did not always work.
"Disable when using …" option can now be used for apps without Dock icon.
Improved automatic Desktop revealing and support for Path Finder's Desktop.
Fixed wrong dimming for: dragging a window between screens; switching between windows of the same app on different screens.

Improved compatibility with Electron-based apps.
Compatibility with Coherence mode of Parallels Desktop app.
Fixed dimming of apps assigned to All Desktops (using Dock menu).
Fixed flickering when switching Spaces with full screen apps on multiple displays.
Settings window now respects "Reduce Motion" accessibility preference.

Run commands and scripts using keyboard shortcuts or from the menu bar. You could set up AppleScript or Automator actions to turn on Dark Mode, hide the Dock and the menu bar or control HazeOver.
Learn More →

Websites and many apps stay too bright even with the new macOS Dark Mode. Don't let them disrupt your flow. HazeOver will dim all the bright spots in the background.
Added support for macOS Mojave and Dark Mode appearance.

Minor bug fixes for macOS High Sierra.
Fixed: automating HazeOver using AppleScript did not work.

Improved compatibility with AMD Radeon Pro graphic chipsets;
Adjust dimming intensity and color using Touch Bar (in Settings window).
Speaking of which, try Touch Switcher for faster app switching.

Change the shading color with a new option. Adjust background tint and brightness for better work at night. Having orange tint should reduce overall blue light emission without sacrificing color accuracy of the front window.
Fixed: undesired dimming in Mission Control mode;
Fixed: HazeOver got confused by some third party tweaks (e.g. Bartender app);
Fixed: focused full-screen app on a secondary screen might get dimmed.
Please rate or review this new version.

New interactive menu bar icon
Press "fn" key to disable dimming when dragging files around
Animation duration can now be set down to 0.1 s
Added "Helpful Tips" menu item
Adjust intensity by scrolling over menu bar icon with a regular mouse too
Fixed: Desktop was not automatically revealed on Mavericks
Like HazeOver? Please rate it or use a new "Tell a Friend" option in the app.

Say hello to the fun new "Dimmer" design! Use trackpad rotation gesture to literally turn the brightness of your distractions down. Or place mouse pointer over HzO menu bar icon and scroll to quickly adjust dimming intensity.
Now you can choose how you want to dim multiple displays. You can either highlight one screen only or have a highlighted window on each screen.
Are you ready? Aye, Aye, El Capitan! HazeOver support is on board.

Thanks everyone who requested better multi-screen support and especially those who helped me out with beta-testing.
HazeOver now highlights a front window on each display individually.
Dimming for apps launched using Spotlight is fixed.
Bonus trick: toggle HazeOver status by double-clicking HzO icon in menubar.

A short story about how I've designed the latest version of HazeOver icon.
Learn More →

HazeOver is a hobby project that I've been working on since 2007 to improve my own productivity. This is a story of its development and two major milestones that lifted it to the top Mac App Store rankings at some point.
Learn More →

Version 1.4.2 boasts a new modern icon. Switching to full-screen applications or interacting with the desktop automatically disables HazeOver dimming. Gone are problems related to sleep and automatic graphics switching.

Version 1.4 brings new Mac OS X versions compatibility along with improved animation technique and more accurate dimming window ordering.
HazeOver now can dim inactive windows instantly without any noticeable delays. Settings window is also treated with interactive Retina-quality icons.
HazeOver and Lion did not get along sometimes. But now they are BFFs.
The first gang of the most wanted features is seized. No need for further introduction. Go grab it!
Well, maybe not that soon but HazeOver 1.2 is already sitting in the line, waiting for a review. Does it carry anything good? You bet! Customizable fading animation, quick on/off and intensity settings in the menu bar. Oh, yeah, and an option to highlight front windows of an active application instead of just a single window.
That's it. But just for now.
Thank you, Samuel Gibbs for the publication on TUAW. Lots of feedback and suggestions coming in. Oh, well. Now I gotta make a new version.
Here's a run down of the requests:
Powered up menu bar icon: set intensity or quickly switch HazeOver on/off.
Some sort of per-app customization. Like don't fade some apps or keep all windows of an app lit instead of only active one. That might be tricky.
Disable or adjust dimming animation. Note that HazeOver acts with a delay instead of real-time. That way it has minimum impact on your system performance. To mask this delay there's an animation. Otherwise dimming would look sporadic and distracting.
I'll try to keep up with your requests so keep them coming.
HazeOver has just hit the app store. The app is available in 17 languages.
HazeOver just been submitted to the AppStore. So what's new then?
Adjust dimming intensity to your liking using new Settings window.
Hide HazeOver system menu bar icon if you wish.
Got some displays connected? No problem. HazeOver will dim all of them appropriately.
Enabling/Disabling HazeOver is a matter of clicking a single checkbox. Adding to or removing from Login Items is handled automatically.
The first version of the HazeOver utility was intentionally simple. No settings, no treatment for special cases. Thanks to your warm feedback it's now clear that it makes sense to carry on. Settings and Multi-Monitor Support are on their way.